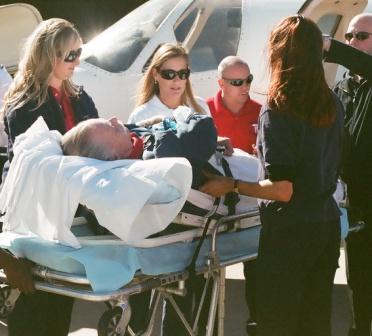 "I used to scoff at the notion of travel insurance, never even considering buying a policy that would reimburse my costs if bad weather or an illness caused me to cancel a trip," long-time Washington Post consumer writer Caroline Mayer commented in a recent post on PBS' Next Avenue website. "But now that I've gotten older, I'm having second thoughts about travel insurance, especially for expensive excursions, requiring lots of upfront cash, to countries not known for their medical care…. If you're over 50 and a globetrotter, I think you might want to buy some types of travel coverage before your next trip, too."
In her post Mayer also quoted a fellow consumer advocate and travel insurance skeptic, J. Robert Hunter, director of insurance for the Consumer Federation of America, who conceded the value of travel insurance in a variety of situations. "If it's the trip of a lifetime, you've put money away for decades and you're worried you might get sick or there's a history of ailments, you may want to buy it," he told Mayer. "Or if you're traveling into strange places with poor health care and you think you might get sick, you might want to consider medical-evacuation insurance."
While Mayer has been spared the problems travelers encounter that insurance can help with, she also noted that the experiences of friends have influenced her thinking. In one case, she shared how a friend's simple back surgery turned into a staph infection that forced the man and his wife to cancel their plans to go on an extravagant African safari—and lose their hefty deposit. The disappointment of not being able to go on this long-anticipated adventure (one they were planning to share with friends and family) coupled with the loss of much of their trip investment was devastating.
Another possibility Mayer heartily agreed with Hunter on is the need for emergency medical evacuation, something that thousands of travelers need every year and which experts have told us can cost—depending on where you are in the world—up to $250,000.
Mayer's change of heart and Hunter's comment about the value of travel insurance are not isolated cases, either. According to the U.S. Travel Insurance Association, the number of Americans who take out travel insurance policies before traveling overseas has risen dramatically in recent years. In 2001, the association reports, only about 10% of Americans traveling globally took out policies before their trips. Today, about 30% do. So, many more people are now seeing real value in travel insurance over a decade ago.
One point we'd also like to emphasize is that travel insurance isn't only a good buy for older travelers but for ALL travelers going overseas. In fact, younger travelers find it extremely valuable for a number of reasons. They're apt to take more strenuous vacations, for example, that can sometimes lead to physical injuries. Many also have young children who can become sick, requiring the parents' return. Increasingly, too, some must even cancel vacations that have required sizable trip deposits because of work demands.
When Reviewing Travel Insurance Options, Consider…
But, deciding to purchase a travel insurance policy before your next trip and actually doing it are two entirely different matters. And, before you put money down on any policy, you might consider:
1. Shopping around. Policy terms and costs can—and do—vary dramatically. Often, too, your travel supplier such as an airline, cruise line or tour operator will charge higher rates and offer less than the best coverage.
2. Buying from a well-known company. At TripInsurance.com, for example, we offer policies from such highly rated providers as American Modern, BCS, Nationwide, Old Republic, U.S. Fire.
3. Finding out if you're already covered. Your homeowner's or renter's insurance may protect your laptops, i-Phones, i-Pads, and other electronic equipment and lost baggage. Some credit cards will also reimburse you for lost or delayed luggage.
4. Reading the fine print. Be doubly sure you know what you're covered (and not covered) for.
5. Learning what's required to make a claim. This is ultimately what it's all about, and different corporate claims policies can vary widely. Make sure you know what support information you need to assure that your claim is handled quickly and without hitches.
Needless to say, this discussion can spark many additional questions. And, if you would like clear, concise answers, just call one of our licensed insurance professionals at 1-877-219-8169 or email us at support@tripinsurance.com. You are under no obligation to buy from us. Our goal is to help people travel with confidence knowing that they've made the insurance decision that's best for them.