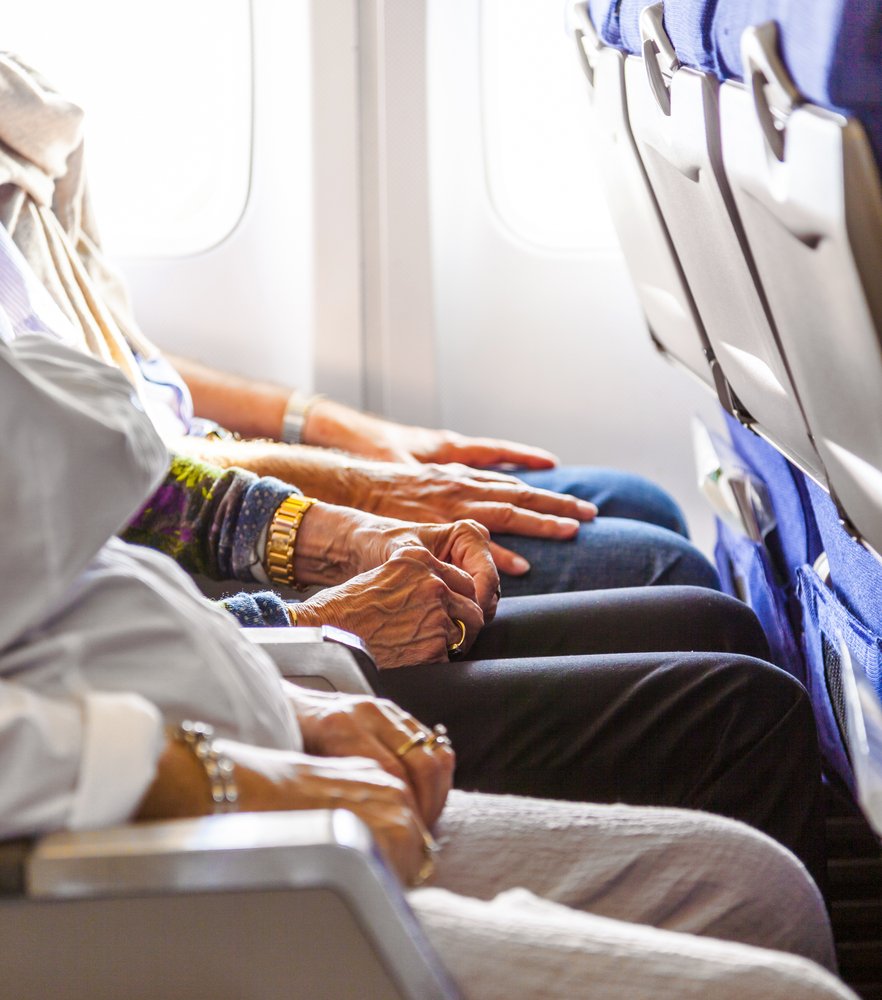 The irony hasn't escaped us.
In the last 50 years, Americans have gradually grown larger. Now, on average, we're about an inch taller and about 25 pounds heavier than we were in the early 1960s. But now—as part of their recent efforts to bolster their bottom lines by squeezing more passengers into economy class—more airlines are actually shrinking the size of seats. So, as more Americans get larger, the seats most of them sit in when they fly are getting smaller. Clearly, this is not a promising trend, especially for overseas and other long-haul air travelers.
First, the Bad News
As a recent article in MSN Money reports, this new development is actually a reversal of a long-term trend to accommodate customer comfort with wider coach seats that dates back to the 1970s. This is when airlines began to increase the width of seats from 17 inches to 18 inches on Boeing 747 jumbos and early Airbus jets. By the 1990s and the early 2000s, this trend continued as the Boeing 777 and the Airbus A380 superjumbos offered coach seats that were a roomy 18.5 inches wide.
More recently, however, more airlines are moving back to 17-inch-wide seats on both their Boeing 777 and 787 Dreamliners. Seats are shrinking on the Airbus A350 model, too, but not as quickly—they're down to 18 inches wide. Apparently, Boeing is keeping its dreamy "Dreamliner" brand, but, with the narrower seats, the "Squeezeliner" might be a more accurate name.
Now, the Good News
Every problem, of course, motivates someone somewhere to try to find a solution. And, since 2001, several independent online sites have been created to address issues related to airline seat quality. These sites can't tell the airlines to stop shrinking the width of their coach seats, of course, but they do give travelers a good deal of useful information about the kind of the coach seating experience they'll find on the flights they plan to take.
Here are 3 of the top sites:
• SeatGuru. Launched in 2001 and purchased by TripAdvisor in 2007, SeatGuru has attracted more than 10 million visitors looking for the scoop on airline seating. At the moment, it offers information on each plane model flown by scores of airlines including seat maps, width, pitch, and other quality indicators. An interesting feature SeatGuru also provides is a dynamic display, which shares special details as you move your cursor over different seats on the seat map.
• Seat Plans. The brainchild of the Business Traveller magazine staff, Seat Plans covers more than 220 airlines, including many of the smaller European airlines other sites don't include. Its goal is to provide the most accurate information possible about the degree of recline in seats, their pitch, and their width. And a compelling feature is detailed seat statistics compiled from numerous independent surveys conducted by Business Traveller.
• SeatMaestro. Based in Europe, SeatMaestro provides information on 178 airlines, including many small European and Asian lines U.S.-based sites do not. It's also updated daily.
In addition, all these sites provide plenty of space for consumer comments and tips on various seating issues.
In a Nutshell…
The key variables in seat quality are usually the model of airliner and seating configurations. When width is your concern, here are a couple of points to keep in mind. On most airlines the widest coach seats are usually in Boeing 777s and most Embraer and Airbus models. The narrowest are in those 767s with 8-across seating, 777s with 10-across, and Airbus wide-bodies with 9-across. When legroom, recline, or another variable is a concern, it's best to check SeatGuru, Seat Plans, SeatMaestro, or another independent site.
•
If you have any thoughts or tips on this issue, we would be delighted to hear from you. Just post a comment at the end of this blog, sharing your perspective.