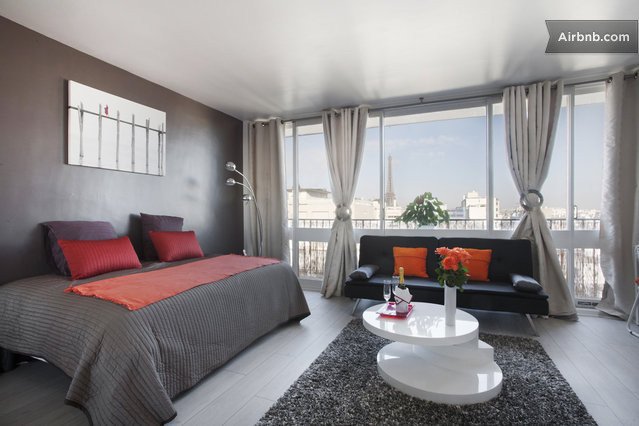 More often than not, a large portion of the time you spend planning for a vacation includes looking for a good hotel.  Not every property offers the amenities you want and/or need.  Trying to find the best place to stay, coupled with the best deal, can be time consuming, difficult and frustrating.  You may have booked directly through the property website, or through something like Hotels, Priceline, Hotwire, or your local automobile club.  Even after booking, you may not be pleased with the accommodations or the cost.  Do you need more space, want to save money, be in a more homelike atmosphere?  Consider staying in something other than a hotel or resort.
Rent a place through Airbnb.  Airbnb is a community marketplace that connects people with spaces to rent with people that are looking for a specific type of place to stay in 190 countries.  Want a room in Rio, a house in Honolulu, or a boat in Bermuda?  Airbnb may be able to make a match for you.  Create a profile, select a location, and look through listings, which include descriptions, photographs and reviews of previous guests.  You can contact the host using an online form if you have any questions.  Both guests and hosts verify their identities.  Guests pay using a secure platform.  If you do encounter a problem with your accommodations, Airbnb has a 24/7 help center.  Over 4 million guests have stayed in airbnb accommodations, which have moved from being just a cheap alternative to hotels to a site where you can select a unique place to stay.
Looking for a home away from home for your vacation?  Consider a home swap with Love Home Swap.  With accommodations in over 160 countries, you can stay in a home for free if you opt for the classic home swap.  You stay at someone's home, and they stay at yours, not necessarily concurrently.   You can earn points by letting someone stay in your home while you are out of town.  Use these points to stay in another member's home for free.  Want the perks of staying in someone's home, but aren't sure you want someone in yours or live in a place that people may not want to vacation? Not a problem, you can rent a home.
Is cost your greatest consideration? If so, consider a hostel.  While many hostels only offer communal rooming, some offer private bedrooms and even baths.  Accommodations will probably be somewhat Spartan, but will cost you much less than other lodging options. You should research the facility thoroughly because some can be a bit sketchy.  Read reviews and contact the facility with any questions regarding cleanliness, safety, and staffing.  Sites like HostelWorld offer no booking fee and offer a guarantee if you have a problem with your reservation.  Hostelbookers offers accommodations for families.
Are you willing to travel without knowing where you will be staying night to night?  If you want to stay in a hotel,  Hoteltonight offers rooms at a wide variety of hotels both in the US and abroad.  You can only book the day you want to stay there, although you can frequently book for more than one night.  You can't book in advance, but you can frequently make reservations for more than one night.  Rooms are sorted into seven different categories, from crashpad to luxe.  They offer a low price guarantee, but there are a number of restrictions.  If you are willing to take chances, booking at the last minute can save you money and allow you to stay someplace you may not have thought of.
Almost anywhere you travel, you have options to stay in places other than traditional hotels.  Before you book a room, consider one of these options.  You may find someplace to stay that will enhance your vacations experience, will better serve your needs or save you money.  Just because you're not staying in a named hotel or resort doesn't mean that you shouldn't buy  travel insurance.  Make sure you're protected wherever you stay.