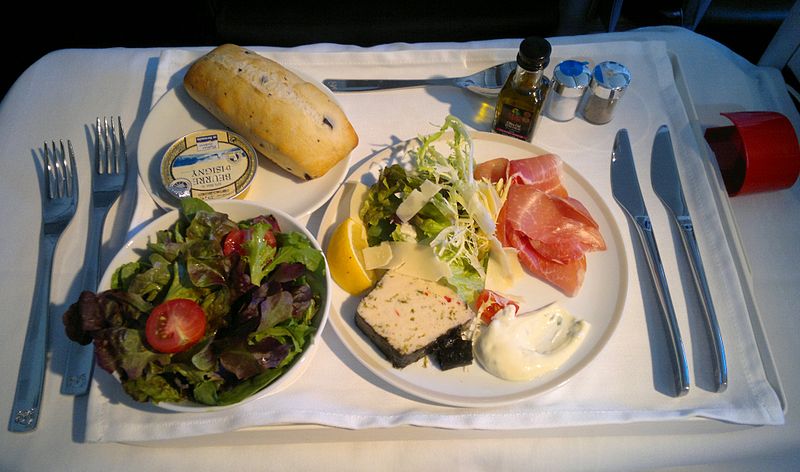 For decades, the term "airline food" has been humorously grouped in with other "oxymorons," or seeming contradictions in terms, such as "military music," "postal service," and "amicable divorce." The joke, of course, is that it often barely qualifies as food—or at least food that's memorable in a good way.
This remains the case for many airlines, unfortunately. But there are several that have bucked the trend in a big way—making a concerted commitment to giving people dining at 30,000 feet a superior culinary experience.
Recently, travel writer Hilary Walke, compiled a list of 6 airlines that, as she puts it, "actually bring gourmet goodness" to the flying experience. In addition to helpful food tips, she also lists U.S. and Canadian "gateways" for each airline—airports that serve as departure an arrival hubs for their (usually) international flights. Here are a few highlights from her list…
1. Turkish Airlines.
The perennial Passenger Choice Awards winner in the best food and beverage category, Turkish pulls out all the stops, even having a chef fully decked out in white cook's clothes and the big white hat greeting customers as they board. Walke recommends appetizers such as stuffed eggplant marinated in olive oil and entrees such as the grilled beef with creamy eggplant. Turkish Airlines flies to and from such airports as Boston, Chicago, Houston, Los Angeles, New York, Toronto, and Washington D.C.
2. Air France. Every 8 months, Air France chooses a new world-class chef to develop an entirely different array of fabulous meals. But, if you're flying Air France both ways on your trip, you don't have to fear repetition—there's an entirely new meal program for your delectation every 10 days. Air France flies through Atlanta, Boston, Chicago, Detroit, Houston, Miami, Minneapolis, Montreal, New York, Toronto, and Washington D.C.
3. Emirates. Here economy seems like first class with dinners that start with slices of smoked tuna
 followed by a delicious lamb brochette entrée, then brandy, then chocolate. And, if you are fortunate enough to fly first class, you'll have a sumptuous 7-course dinner to look forward to! Emirates flies out of Boston, Dallas, Houston, Los Angeles, New York, San Francisco, Toronto, and Washington D.C.
4. Singapore Airlines. One of the differentiators here is catering meals to destinations. For example, if you're going to Hong Kong, you may have Hong Kong-style noodles and braised beef short ribs in Chinese wine. Again, award-winning chefs are making the selections. Singapore Airlines flies out of Houston, Los Angeles, New York, and San Francisco.
5. Cathay Pacific. If you travel via Cathay Pacific, you can have a breakfast of fresh toast, organic scrambled eggs, and espresso or cappuccino—all made on board specifically for you. Even if you fly premium economy, you eat your meals with metal utensils and, if you like, order Häagen-Dazs for dessert. Cathay Pacific flies out of Chicago, Los Angeles, New York, San Francisco, Toronto, and Vancouver.
6. Etihad Airways. Based in Abu Dhabi, this airline recruits its chefs from Michelin-starred restaurants around the world. The goal in first class is to replicate the experience of a 5-star restaurant. But, meals in coach are also quite good, delivering on both taste and selection. Etihad Airways flies out of Chicago, New York, Toronto, and Washington D.C.
For a little more detail plus some mouth-watering photos of dishes served on each of their airlines, check out Hilary Walke's article.
If you know of another cuisine-conscious you'd like to add to this list, please be our guest. Fine dining can be one of life's great experiences, and there's no reason why we can't indulge ourselves—even when we're moving at 600 miles an hour at 30,000 feet in the air!