Your idea of a fantastic vacation might include a luxurious and relaxing day at a spa. Your traveling companion may want something new and adventurous at each stop. Visit one of these unique spas, and everyone can be happy. Some sound wonderful, others are just a bit …. Different. Decide for yourself, but consider trying a new experience.
At Hershey's Spa at Hotel Hershey in Pennsylvania, you'll have a no calorie chocolate experience from head to foot. Have a cocoa facial or a cocoa massage. If you're a fan of chocolate covered strawberries, consider a chocolate-dipped strawberry body treatment – a strawberry scrub followed by a chocolate fondue body wrap (warmed moor mud with the essence of cocoa. Don't forget your hands and feet – get a whoopie pie mani-pedi.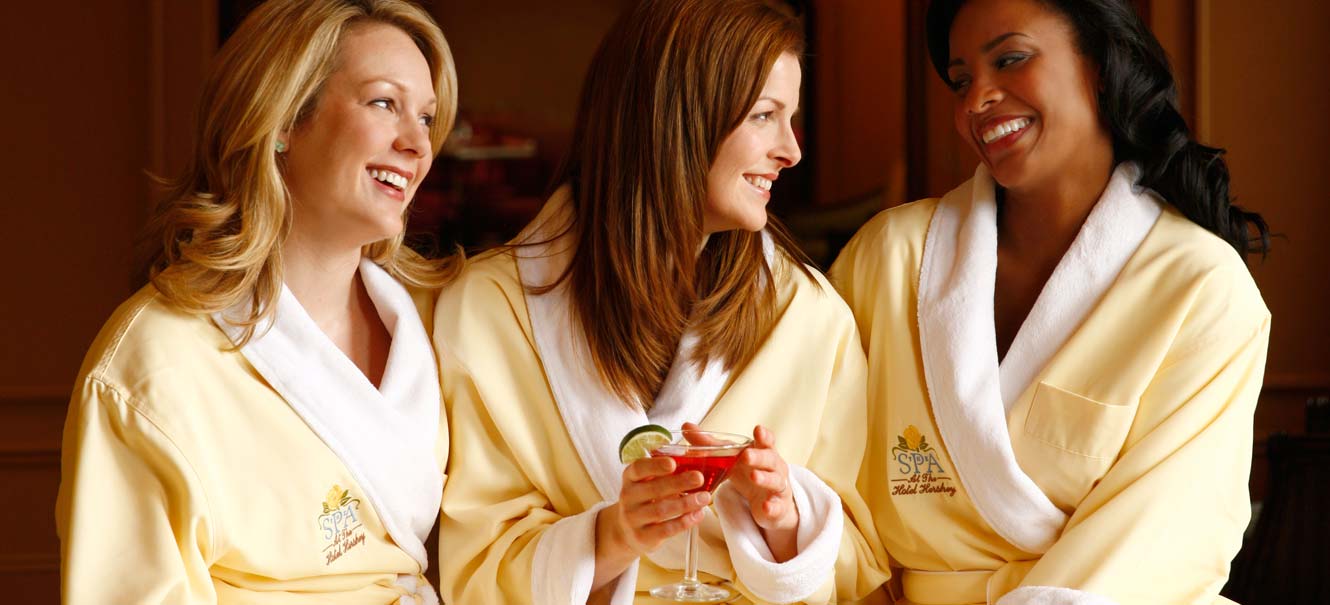 If being rubbed with food isn't enough for you, consider visiting Hakone Kowakien Yunessun Spa Resort in Japan. You don't just drink wine, green tea, coffee or sake – you soak in it. If you're not that adventurous, you can visit a God's Aegean Sea where you can soak while you watch special effects on the ceiling.
K West Hotel & Spa in London you can traverse from the Scandinavian Sauna and Steam Room to the Snow Paradise, a room that is kept at 5° F. This is supposed to stimulate your circulation and benefits your immune system. You can stop between the two extremes n the Chill area with loungers.
Iceland's Blue Lagoon's geothermal waters are 100° F year-round. The 9 million liter lagoon renews itself every 40 hours. You can enjoy an in-water massage or other spa treatments. If you're environmentally conscious, this is a great place to visit. The facility is 100% powered by clean geothermal energy.
Enjoy the sights under the sea at Lime Spa in the Maldives. The world's first underwater spa allows you to relax with a treatment for both your body and mind and follow up with a spa cocktail and fruits as you have a clear underwater view of a reef and its inhabitants.
Want a more hands on spa experience with fish? Have a fish pedicure at La Blanc Spa in Cancun. You soak your feet in a warm water fresh tank full of Garra Rufa fish (aka Doctor Fish). They swim around and eat the dead skin cells from your feet. This is thought to promote blood circulation and help regenerate healthy skin.
In keeping with the critter themed treatments, visit Barak's Carnivorous Plant Farm and Snake Spa if you're in Israel. Ada Barak will place about 6 non-venomous snakes on your body and they slither and writhe to promote relaxation, according to Barak. If snakes make you tense, this may not be your cup of tea. She doesn't have a website. Most of her clients come from word of mouth.
You don't undress and a therapist doesn't touch you when you enter the Galos Caves in Chicago. A salt–iodine cave lit with pastel psychedelic colors is meant to benefit respiratory, digestive, nervous and cardiovascular disorders. All you have to do is relax for your 45-minute session.