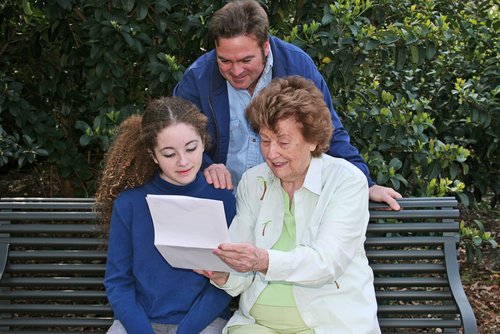 You want to take your aging parent on a trip.  Whether it's to travel to see where your ancestors are from, to see places they've always wanted to see, or simply spend some quality time together out of town, the travel can be challenging.

First and foremost, buy trip insurance.  Depending on your parent's health, there is a distinct possibility he or she may be ill and unable to travel.  For that matter, you may be unable to travel because of work of health issues.  Medical evacuation and medical services are the most important coverage.  If you have to get home from abroad and you need medical care while traveling, it can cost you over $150,000.  MEDICARE DOES NOT COVER YOU WHILE ABROAD.  Medical trip insurance will provide much needed coverage.  24/7 live support will allow you to coordinate treatment if necessary.  The sooner you purchase insurance after booking your ticket, the more you save.
Plan ahead and try to consider any major complications that could arise.  When choosing a location for your trip, consider mobility issues.  Val Grubb, who writes a blog about traveling with her octogenarian parents, suggests selecting a city that can be easily navigated.  She does web searches with a city's name and "wheelchair accessibility". This can provide you with a good starting point.  Have your heart set on a city that seems it may be difficult to navigate? Grubb suggests hiring taxis or drivers.   Consider the time of year you're planning to travel.  Russia in the dead of winter or Palm Springs in the heat of summer may not be good choices.
Once you've selected a place to visit, make sure your documents are all in order.  If you need to renew your passports, give yourself 3 months if you can.  If time is of the essence, last minute renewals are possible.    The State Department offers a number of suggestions for seniors traveling abroad.
When you're making airlines reservations, request wheelchairs to get from point A to B if there are any mobility issues whatsoever. Mom and Dad may balk, but be insistent if you can.  There is no point in your parents wearing themselves out just traveling through an airport.  If your parent uses a wheelchair, check with the hotel when making reservations that there is an elevator that can accommodate them.
Once you've booked your trip, the most important thing you can do to protect your parents when they travel is to get adequate health insurance.  Buy your insurance sooner rather than later.  Many plans are only available for a certain time after your trip is booked.  Medicare DOES NOT cover health care overseas, and coverage provided by normal health insurances is severely limited abroad. The cost of travel insurance is small considering the piece of mind it will give you and your parents to know that they can get any medical care they need, including medical evacuation to get them home safely in case of a medical emergency.  24/7 support provided by tripinsurance.com is invaluable when your loved one is in need in a foreign country.
Pack light.  Use wheeled carry on luggage if you can, make sure your luggage can stack – it should be easier to handle.  Having laundry done, while costly, will ease the load on managing baggage for a number of people.
More likely than not, your parent takes some sort of medication.  Don't get stuck abroad without the medications they need.  Take simple precautions.  Bring all medications in their original packaging.  Keep a list of the medications, including generic name.  Don't check medications – lost bags mean lost pills.  Bring several days more medication than you need in case of flight delays.
Don't overschedule yourself.  Build in some downtime between activities.  Taking a break and sitting on a park bench or at a sidewalk café can provide much needed rest. Your parents probably need it, and the chance to recharge will be good for you.  Be aware that many, but not all, museums have elevators.  Visiting attractions at off times – early or later in the day will make getting around easier.  When buying tickets for these attractions, watch for senior discounts.
Enjoy your time with your parents and experience your vacation through their eyes.  As with any vacation, be willing to go with the flow.  If you've planned your trip well, no problem is unsolvable.