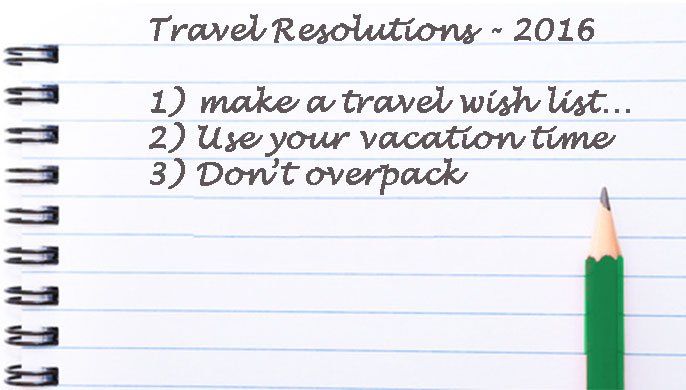 New Year's resolutions are usually hard to keep. They frequently involve exercise, weight loss, stopping smoking or drinking or even changing a relationship or a job. Consider making some travel resolutions – some take no effort to carry through and the others will make you a successful traveler.
Make a travel wish list. You know where you want to go. Make a list. Be sure to include places that you've been and want to revisit. Don't forget to add new places, even places that you have never considered before. It's just a list, be adventurous. Visiting new places allows you to learn and broaden your perspective of the world. Even if you don't get to visit any of these places, it's nice to dream.
Save for a rainy day… Or a snowy day… Or a hot and humid day… Or a Tuesday. In other words, once you have a travel wish list, try to save so you can really take that trip.
Think small. Remember that not every trip has to be a big one. A weekend away can do wonders for the soul.
Think big. If you can do it, take that big trip. Waiting for a "reason" to take a trip? You don't need to be celebrating a major birthday or anniversary to deserve a trip. Create a reason to go and relax or explore.
Promise yourself you won't over pack. Really think about what you need on your trip, and not just in your suitcase. Don't cram every moment of your vacation with activities. Take time to meet local residents or just smell the flowers. You'll enjoy your planned activities and be more relaxed if you give yourself some breathing room.
Use your vacation time. We've all seen the ad where a young boy hears that more than 400 million vacation days go unused every year. His response is "that's the stupidest thing I've ever heard." What are you saving those vacation days for? Use them!!
Tell yourself you can embrace the unexpected, but prepare for it. If something happens and you have to change your plans, go with the flow. Sometimes unexpected changes in a trip are provide the most memorable moments. That being said, protect yourself against the loss that occurs if you have to cancel your trip, get sick during your trip or a myriad of others events that can cost you. Get yourself trip insurance so you can plan and take that trip that you resolved to take.
My travel resolutions for the year? See more of California, visit the Galapagos Islands, Iceland, see Charleston for the first time, or maybe Australia? I think I'd better work on that travel wish list.