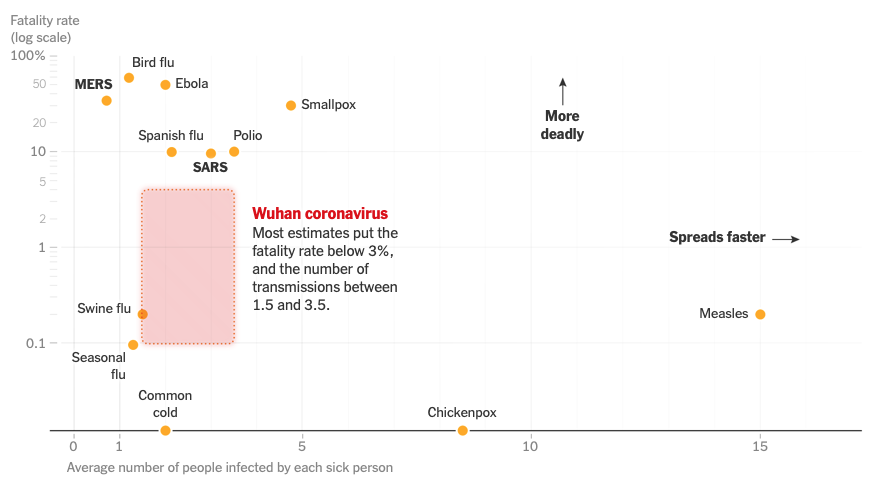 A lot of people are concerned about traveling due to the outbreak of the novel coronavirus in China. There are things you can do to help protect your travel investment. The conditions are changing dynamically, so travel availability is in constant flux. But what is it, and do we need to take special precautions before traveling? What is the extent that travel Insurance coverage for CoronaVirus will protect you?
Coronaviruses are transmitted between animals and people.  This new strain had not been previously identified in humans.  Authorities suspect that it was transmitted in the open farmers' markets in China that sell exotic animals.      Symptoms include fever and respiratory symptoms like difficulty breathing and dry cough.  It can also cause body aches and diarrhea.  In severe cases, pneumonia, kidney failure and even death have occurred.  This virus has surpassed those infected with SARS during the 2002-2003 epidemic.   It is more contagious than the common flu virus that is currently active in the USA, and the death toll is growing. These viruses typically are fatal to weaker population segments, but this virus has been fatal to health and strong people as well.
The US State Department has issued a Level 4 Travel Advisory telling American not to travel to China. And the World Health Organization as declared the coronavirus outbreak to be a global health emergency. The disease is now a health risk outside of China. United Airlines, American Airlines, and Delta Airlines have all shut down all flight to and from China until March.
Whether you've already booked your trip, or are still in the planning stages, there are things you can do to help protect your health and your travel investment.
As you might know, insurance companies have specific guidelines for what they consider to be a covered reason for cancellation. Unfortunately, an alert from the CDC is not a covered reason for cancelation. Neither is wanting to cancel because attractions you want to see are closed. If you want the option to cancel your trip because you are concerned about the novel coronavirus, and you haven't yet purchased your trip insurance, the best way to ensure that your trip deposits are protected is to purchase a trip insurance policy with a cancel for any reason (CFAR) provision. A policy with CFAR gives you the option of canceling your trip because of concerns about the Coronavirus, or if you choose not to travel because attractions you were planning to see are not open. Plan ahead though, because CFAR policies frequently need to be purchased within 14 days of your initial trip deposit.
While CFAR policies are generally more expensive than other policies, now may be the best time to consider one. Since we don't know if the coronavirus will spread, or where it will go, travel anywhere could be affected. This is where a CFAR policy may be better for you than other types of plans.
Even if it's been more than 14 days since your first deposit, buying travel insurance coverage for CoronaVirus is a good idea. While you won't have the option to cancel for any reason, you will be covered if you get sick and are unable to travel. All of our policies offer primary medical coverage and medical evacuation as well. They also offer trip delay and trip interruption. If you have included payments for events or attractions that have penalties for cancelation, you can be covered if you have trip insurance. You are also covered if the airlines shut down flights and you cannot get to your destination.
If you've already booked your travel for the near future, you should check with your airline, cruise line, or hotel.  All flights in and out of China, have been shut down. Unfortunately quarantining China is not very effective, and may have happened too late. Many people traveled not knowing they had the virus and have spread it worldwide.  Some airlines are offering refunds and others are allowing you to rebook, or take travel credit.  Cruises are also affected, some are cancelled and others have increased screening procedures.  Several have quarantined the entire ship and locked all the passengers in their state rooms. Hotels are allowing customers to reschedule as well.
If you have not purchased travel insurance coverage for CoronaVirus prior to the news regarding flight cancellations based on this epidemic, you are likely not covered if you buy the insurance now.  The insurance company will consider this a known travel problem at the time you buy the insurance and will reject claims if the plan is purchased after the travel problem is already known.
Regardless of where you're traveling, it's always smart to take precautions to help prevent yourself from getting sick. Make sure you have taken all the precautions the CDC recommends for the place you are visiting, as well as a flu shot. Try not to touch your face in order to reduce the chance of a respiratory illness. Wash your hands with soap and water. Use a hand sanitizer, and use more than you think you need.