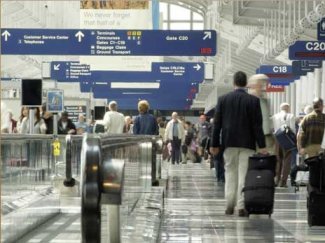 If you're one of the 25.3 million people expected to fly during the Thanksgiving travel period, there are a few things you can do to make your trip back to see the family more enjoyable.
Buy travel insurance. If you haven't purchased it yet, it's not too late. You can buy a policy up until the day before you travel. You may not be concerned about medical coverage, but a missed connection can wreak havoc in your holiday plans. It's not expensive, but it can save you money if you have to change your flight plans because of a missed connection.
Reserve airport parking in advance. You can reserve parking at many airports. This eliminates the risk of discovering the parking lot is full when you arrive at the airport.
Travel light. If you can avoid it, don't check a bag. You'll save money and time waiting at baggage claim. More important, you'll eliminate the risk of having your bag go to Des Moines when you're going to Detroit.
Use travel apps. Download your airline's app to keep up with flight information. FlightView Free offers apps for both Iphone and Android. Both airport belay status and a real-time flight tracker allow you to follow your flight and connections.
Be happy (or at least act like you are). Traveling can be stressful. So can visiting the family. Make it easier for yourself and everyone around you and try to go with the flow. When you make it to your final destination, treat yourself to an extra piece of pumpkin pie.