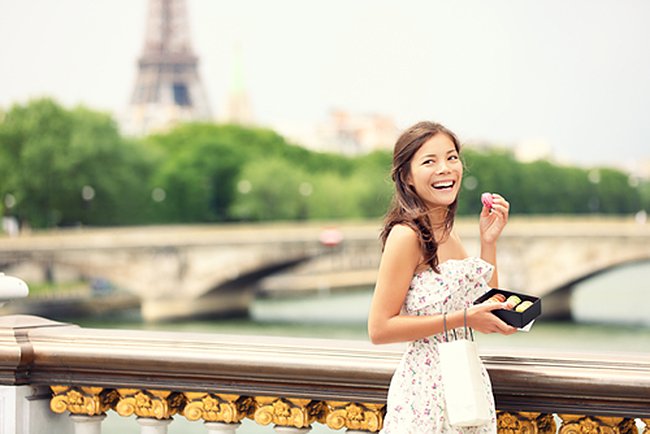 Taking your first trip to Paris?  You have a long list of places to visit and patisseries to enjoy. (Patisseries are small French bakeries that feature fancy breads and delightful pastries.)  Can you see everything and taste everything? Possibly not.  But with planning you can make the most of your time by visiting a patisserie or a chocolatier either before or after you take in one of the amazing sites in Paris.  This article is not intended to give you in-depth descriptions of each site.  It's intended to help you experience Paris both visually and through taste.  Here are some of the most famous venues in Paris, paired with some of the best patisseries around.
The Louvre, which opened in 1793 is the arguably the most famous museum in the world.  Whether you're just trying to see the "big 3" – Venus de Milo, Winged Victory, and the Mona Lisa or planning on a tour of a specific area, know that you can't see everything.  Make a plan, and do your best to see as much as you can.  But either before or after your trip, walk through the Tuilleries and make a stop at Pierre Herme to try one of his exotic flavored macarons like white truffle hazelnut.  There is intense discussion as to whether these macarons, or those from Laduree (near the Arc de Triomphe) are best.  Decide for yourself.
Notre Dame Cathedral is another usual stop for a first time visitor to Paris.  Built between the 12th and 14th centuries, this gothic structure is one of the first examples of flying buttresses. Just a little more than 10 minutes away you can visit Pain de Sucre to try one of their amazing tarts.  Once fortified, you can take a 2-minute walk to the Pompidou Centre to view some of the world's best modern art.
A visit to the Luxembourg Gardens can include prodding wooden sailboards with long sticks on the Grand Bassin pond or taking in the English and French gardens.  The museum houses temporary art exhibitions.  Within less than 5 minutes you can be tasting a treat from Jean Paul Hevin at 3 Rue Vavin to try one of the chocolate macarons, or the hot chocolate, or both.  If all that fresh air makes you hungry you can also visit Sadaharu Aoki.  Dorie Greenspan raves about his bite sized delicacies.
While walking in the vicinity of the Arc de Triomphe or shopping along the Champs Elycees, don't miss Laduree. They have been creating traditional French macarons for over 60 years.
If you're visiting Montmarte and Sacre Couer on foot, be sure to visit Gontran Cherrier for some of his fabulous breads, particularly the Pain des Amis.
There are many other pleases to see and even more patisseries.   If baked goods and sweets are an integral part of your visit to Paris, consider purchasing David Lebovitz's Paris Pastry Shops from itunes.  This app has the names and addresses of over 300 of his favorite places to buy sweets.
You're on vacation . . .  indulge yourself.  Paris is the wrong city to be on a diet.  Just tell yourself – look at all the extra calories I am burning walking from patisserie to patisserie.