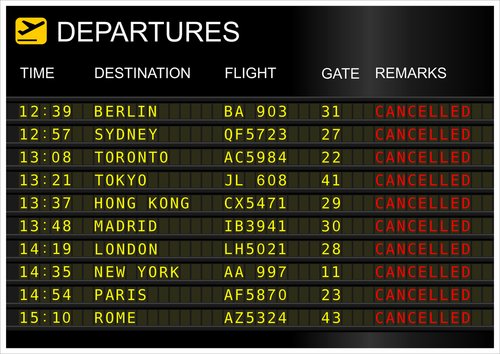 Back in the day, if your flight was cancelled or delayed because of the airline, it was required to offer you transportation on another airline if that flight would get you to your destination quicker.  Only a force majeure, an unforeseeable circumstance or act of God, limited the airline's liability.  This regulation, known as Rule 240, has not been compulsory since airline deregulation in 1978.  So what can you do when the airline cancels your flight because of equipment failure, or you miss your connection because the airline didn't have staff for the flight?
Only three airlines still have Rule 240 – Alaska, Frontier, and United.  These airlines will put you on another carrier if that airline can get you to your destination more quickly.  Alaska even has language stating they will upgrade you to a first class seat if that is all that is available.  United's language of Rule 240 would indicate that a shortage of labor is an unforeseen circumstance.  Given that there are fewer flights than before, and, according to the Bureau of Transportation Statistics, 83.4% of the seats are full; Rule 240 may not help you.  If you've missed a flight because of airline error, more likely than not, others are in the same position, and they will be vying for the same seat you are.
If you are concerned about an airlines policies, check Airfare Watchdog , which has deciphered the rules of a number of airlines.  Some airlines offer refunds, meal vouchers, hotel voucher and assistance on other flights by the same carrier.
If you really want to protect yourself against missing part of a vacation because of an airline, buy trip insurance.  While the insurance may not get you on th
at next flight to Maui, it will cover the cost of hotel and food up to the limits of the plan.  If the flight you get on costs more that the original ticket, and you are responsible, trip insurance may cover that additional expense.