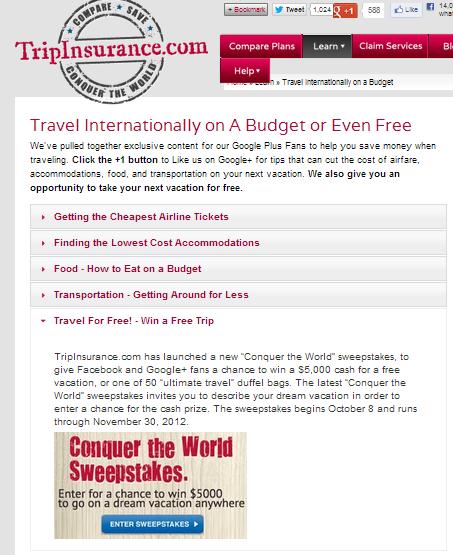 The more active we are on Facebook and Twitter, the more we find that our followers like what we have to share about your favorite travel destinations. We decided that we wanted to do something special for our Google Plus fans. We have set up an exclusive information page for Google Plus fans where we share international budget travel tips, including how to find the cheapest air fares, where to find lowest cost for hotels, how to eat on a budget and getting around for less.
All you have to do is visit our custom Google Plus Fan Page, click the G+1 button and you will get access to the exclusive c
ontent for Google Plus fans.
And as a special bonus, we also are offering ANOTHER chance for Google Plus fans to enter our latest Conquer the World sweepstakes and win $5,000 cash. We have extended the deadline to enter the sweepstakes to January 4, so you may be able to treat yourself to a trip early next year.  All you have to do is share your dream vacation destination and you get a chance to win $5,000!
So join us on Google Plus and get even more information to help you plan your next vacation.
(And if you have your own site and are wondering how to set up your own  Google Plus Fangate page, we are happy to share our code. Drop us a line in the comments or via email and we'll tell you how to build your own.)