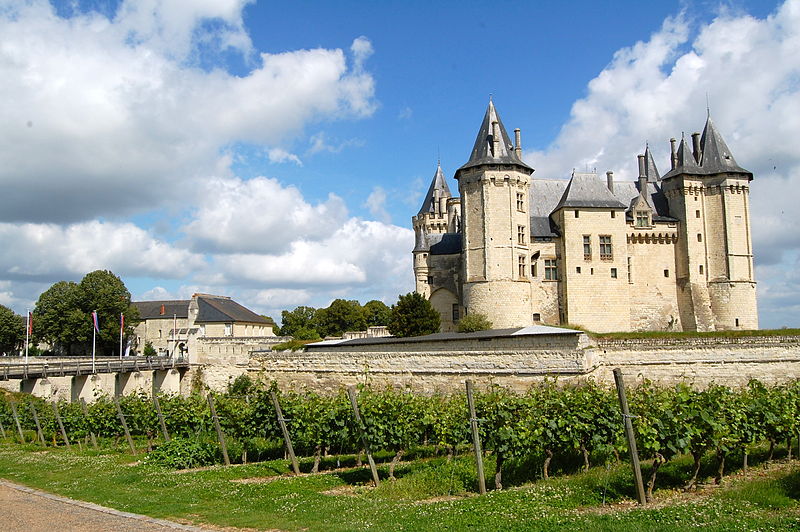 Travel writers are always telling us about the world's best international resort, spa, ski, and even shopping destinations. So, as part of an overseas vacation, why not visit one or more of the world's premiere wine-growing areas? We did some investigating recently, trekking to such online destinations as the Wine Enthusiast and ABC News. From a wider list of options, we selected our 8 from 4 different continents. And, while these choices aren't ranked in any special order, they all made our list based both on the quality of the wine experience you'll have and the abundance of nearby sights and activities for you to enjoy.
Here they are:
Loire Valley, France. Located about an hour from Paris, France's Loire Valley is both one of the country's main grape growing areas and home for magnificent castles and breathtaking scenic vistas. One popular pastime for visitors is bicycling from castle to castle and vineyard to vineyard, soaking in the sights while sipping the wines. Producing about two-thirds the amount of wine as France's famous Bordeaux region each year, the area is noted for both still and sparkling wines made from Cabernet Franc, Pinot Noir, Gamay, Sauvignon Blanc, Chenin Blanc, and other grapes.
Stellenbosch, South Africa. With the largest number of wineries in South Africa, the Stellenbosch region in the southwestern part of the country produces more than 1,000,000 liters of wine each year. Noted both for its Mediterranean climate and fine Cabernet Sauvignons, the area also offers opportunities for travelers who enjoy the arts, fine dining, hiking, and surfing.
Vale dos Vinhedos, Brazil. The largest and most important wine region in Brazil, Vale dos Vinhedos now accounts for almost 90% of Brazil's fine wine production. Settled in the late 1800s by Italian immigrants, the area is noted for its natural beauty and offers numerous wineries, hotels, and restaurants to choose from. Called some of Brazil's "most sought-after sips," the valley's most noted offerings are red blends, whites such as Chardonnay and Riesling, and sparkling wines in both dry and sweet styles.
Hunter Valley, New South Wales, Australia. Just a short drive from Sydney in southeastern Australia, the Hunter Valley is one of the country's top wine regions. As well as wine, the area also includes fine restaurants, country guesthouses, and an assortment of activities from golf to shopping for the growing numbers of travelers who visit each year. The valley is best known for its Shiraz, Semillon, Chardonnay, and Cabernet Sauvignon grapes.
Douro, Portugal. Located along the Douro, a major river in northern Portugal, this area has been called "the most beautiful wine region in the world." A center for the country's famous port wines, the area has attracted increasing numbers of tourists in recent years, who enjoy—along with fabulous port tastings—staying in the area's fine hotels and taking scenic river excursions to the Upper Douro Valley.
Rioja, Spain. Located in north central Spain and bordering the Basque region, Rioja is Spain's leading wine region. With a winemaking history that dates back centuries, it produces more than 250 million liters of wine annually, 85% of it red. Varietals used include Tempranillo, Garnacha Tinta, Greciano, and Mazuelo. The area also has wonderful lodging, culinary, and sightseeing opportunities.
Danube, Austria. Stretching from the Monastery of Melk to the outskirts of Vienna along the Danube River, this region is one of the world's foremost centers for white wines.  Particularly popular are wines made with Austria's most famous grape, the peppery Grüner Veltliner. And the area's much heralded Rieslings are famous for their apricot and peach fragrances. A great time to go is in the fall when the Lower Austria Autumn Wine Festival is in full swing.
Puglia, Italy. The heel on the boot of Italy, Puglia is a thin peninsula in the southeastern part of the country with breathtaking views of the Mediterranean and—by one recent count—178 wineries. The region's signature grapes include the red Negroamaro and Primitivo (genetically very similar to California's Zinfandel), and the white Verdeca. Many wine writers consider Puglia a hidden treasure.
So, that's our intriguing 8. If you have 1 or 2 other international wine destinations you would like to add to the list, just post a comment. We'd love to hear—and learn—from you.