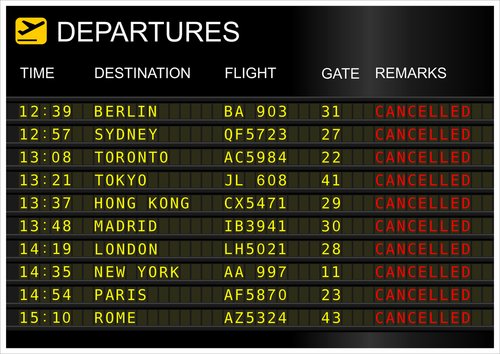 Most travelers are all too familiar with flight delays.  Sitting for hours in an airport, spending money on food or hotel you hadn't planned for can be part of the drill.  Trip Delay coverage in travel insurance can help recoup expenses during a delay.
This coverage is the most beneficial for travel as a passenger on a common carrier, whether by plane, train, bus or cruise ship.  However, there can still be coverage for those driving to the destination.  Each plan will be specific in what is required for a travel delay to be covered, including a required number of hours before the delay is covered.  Here are some of the reasons for a delay that you should consider when comparing travel insurance for Trip Delay coverage.
Traveling as a Passenger
Delay of common carrier – Most plans use broad language to include any delay of your common carrier.  This could be weather, mechanical, labor strikes, or any other reason that delays a flight, train, bus or cruise.
Loss of passports, visa, travel documents or money – If your important documentation or money is lost, report the incident.  Some plans will cover Trip Delay for this reason.
Quarantine, hijacking, strike, natural disaster, terrorism or riot – Many plans also specify these covered reasons for a Trip Delay.
Traveling by Car
Traffic accident – A documented traffic accident en route to your trip is a covered reason for Trip Delay on some plans.
Road closure – Some plans can cover Trip Delay for a closed road in your planned route.
What is Reimbursed?
All plans on with Trip Delay coverage can reimburse reasonable food and accommodation expenses during the delay.
Some plans offer additional reimbursement:
Local transportation expenses
Additional transportation expenses to rejoin the original trip
Unused land and water arrangements
Airline clubs
Phone calls
Internet usage
Kennel expenses
Trip Delay is not the only travel related coverage in place during the trip.  Missed Connection coverage is included on all plans from TripInsurance.com.  If you insure your trip cost, Trip Interruption coverage will also be included.  In any case where multiple coverage benefits can apply, you can claim whichever benefits work the most in your favor.
If you have any questions, please contact us.  TripInsurance.com agents are available by phone 24 hours per day and are eager to assist you.