Tipping is one of those things that is misunderstood at home and abroad. There recently was an article in the San Francisco Chronicle not long ago complaining that San Franciscans are among the nation's worst tippers. But then, San Francisco is the only city with a restaurant tax to fund the city's health insurance program, so clearly the rules of tipping vary from city to city as well as country to country.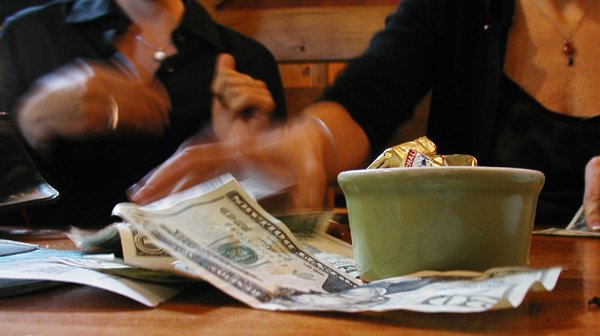 What's the best way to handle tipping while traveling? Conde Nast Traveler has an extensive breakdown of tipping etiquette broken down by country for those of you seeking detailed instruction. Tipping strategies will vary by region. As writer Tim Murphy notes about the Middle East, for example:
The tipping culture is often complex and subtle in this part of the world. "It's known for being very friendly and hospitable, with people providing too much service," says Rita Zawaideh, the Jordanian-born owner of Seattle's Caravan-Serai Tours, which plans trips to the region. In return, "people's hands are out a little bit more." While you may give more often in these parts, it's usually in small amounts–and it's deeply appreciated.
Or in Asia:
Tipping expectations vary widely throughout the region. "In India, they'll run after you and scream for money," says Sandy Ferguson, who runs Asia Desk, a Georgia travel agency, "but in Southeast Asia they don't," even though it's considered polite to tip. The only rule that applies universally? "Always give the bellman at least a buck a bag," he says
There are some general rules that will put you in good stead no matter where you go. Here are some tips for how to handle tripping on the road, either in the US or abroad:
Hotel tipping – When you arrive, tip the driver 10 to 15 percent of the total fare. If you arrive in your own car, pay the valet $2, or expect to give the shuttle bus driver $3. The bellman should get $1 to $2 per bag, paid when he sees you to your room, or when he helps you check out. The concierge can be invaluable in helping you with dinner reservations or hard-to-come-by theater tickets. You should tip the concierge $5 to $10 at the time or service, or add $20 or more to the bill at the end of your stay, depending on how helpful the concierge and staff have been. Add 15 percent to your room service charges, and be sure to tip the maid $1 to $2 per day for service.
Tour tipping – If you take a tour, tips are not automatically included. Your guide should get at least $1 for a half-day and $2 for a full-day tour. If it's a private tour, you should tip more according to the service. If you are on a multi-day tour, tour operators recommend $3 to $8 per person per day for the tour manager, and at least $2 per person per day for the bus driver.
Cruise tipping – You should tip according to your "comfort level," and usually tip only on the last day of the cruise. In general, the dining room staff gets from $2 for an assistant waiter to $3.50 per person per day for head waiters and the maître d'. Room stewards get $3.50 per person per day. You should tip bar waiters, deck stewards, and bellboys accordingly.
Restaurant tipping – The general rule is 15 percent for a standard tip and 20 percent for excellent service. That's the rule for most U.S. restaurants, and it translates to most countries. For small pubs or cafes, 10 percent is acceptable, but you should tip bartenders at least 15 percent. In fancy restaurants, be prepared to tip the maître d' $5 to $10 for service, and $1 per garment for the coat check.
The initial e-Travel Alerts we send you when you buy travel insurance from TripInsurance.com include a guideline for tipping in your destination country.   Wherever you go, make it a point to learn about local tipping customs so you don't appear to be a piker or an ugly American. The rules and amounts may vary no matter where you travel, but good service should always be rewarded.