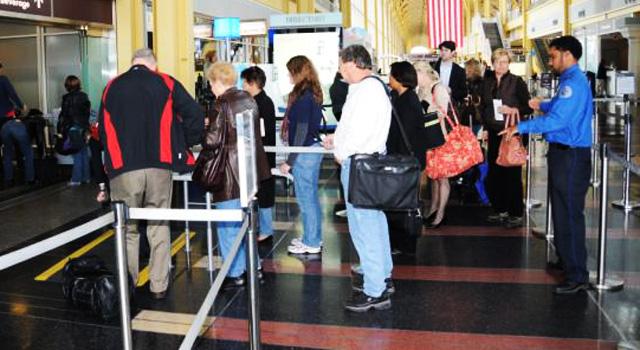 With everything that has happened this summer, you may have missed an announcement that might affect you if you are planning to fly somewhere later this year. In June, the TSA announced that it is tightening screening requirements at all domestic airports. In the coming months, passengers at TSA checkpoints will have to remove all electronic devices larger than cellphones from carry-on bags.
"It is critical for TSA to constantly enhance and adjust security screening procedures to stay ahead of evolving threats and keep passengers safe," the agency said. "By separating personal electronic items such as laptops, tablets, e-readers and handheld game consoles for screening, TSA officers can more closely focus on resolving alarms and stopping terror threats."
What does this mean for you? When going through security, you can't leave your tablet or handheld game console in your bag. You will need to place it in a bin with nothing either below or over it, just like you do with laptops. Be patient until everyone is aware of the new requirement. At this point, there are no other changes in what you can bring in your carryon bags.
When are these changes taking place? New restrictions are already in place in the following airports: Boise Airport (BOI), Colorado Springs Airport (COS), Detroit Metropolitan Airport (DTW), Fort Lauderdale-Hollywood International Airport (FLL), Logan International Airport (BOS), Los Angeles International Airport (LAX), Lubbock Preston Smith International Airport (LBB), Luis Muñoz Marín International Airport (SJU), McCarran International Airport (LAS), and Phoenix Sky Harbor International Airport (PHX). All US airports will be phased in within the next several months.
What can you do to make things easier for yourself? You can avoid having to take anything out of your carryon luggage if you have TSA Pre✓ or Global Entry. The application process is simple. Just be sure you apply in plenty of time before you plan to travel by air. Once you have been approved for either program, you don't have to remove shoes or take any electronics or liquids out of your carryon bags. Just be aware that not all airports or terminals offer this service.
Keep your tablets and game consoles within easy reach in your bags so you can easily take them out in the security line. Be patient – not everyone may be aware of the new requirements. Remember the TSA is doing its job to protect you. It is not their intent to make your life difficult or hassle you. Being cranky with the person in front of you won't speed the process, but it will make it even more unpleasant.
Whenever you travel you should also consider getting trip insurance to protect your investment and make sure you are adequately covered in case of illness or injury.