Most of you have already made your travel plans for the holidays. This year promises to be one of the busiest travel seasons in the last six years according to a report from AAA:
Planes will also be fuller than last Christmas. The group's chief economist John Heimlich expects 86 percent of seats to be filled with paying passengers, up from 85 percent last year. That number could climb to 90 percent on the busiest days: the weekend before Christmas, the day after Christmas and Jan. 2.
More air traffic also means more travel delays, overcrowded airports, and other challenges that could make it harder to get to your destination. Planning ahead for a smooth journey is more important than ever this year, so here are a few holiday travel tips to help you on your way:
Leave early – Assume that the airports will be crowded, and the security lines will be lengthy, especially with more people carrying gifts, so give yourself plenty of time. Also try to leave more time to make connections.
Pack a meal for the plane – you can't be guaranteed that you will have time to pick up a meal in the airport, and what you pack from home will be cheaper, tastier, and healthier.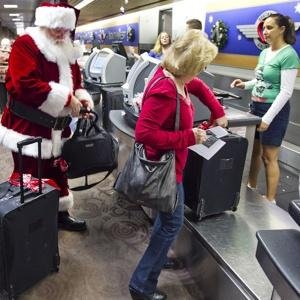 Apps Help You On Your Way – If you are carrying an iPad, iPhone, or smartphone, technology can help you on your way. Most airlines have their own iPhone apps that let you make reservations, check schedules, check flight status, and more. And many airlines, such as American, United, and Delta, now let you load your boarding pass on your smartphone, which makes check in easier. The TSA offers some TSA travel tips for the holidays, including their MyTSA app which tells you airport status, security wait times, and other information. And there are other apps such as FlightAware which lets you track air traffic by flight or tail number.
Travel Light – If you are delayed or your flight is canceled due to weather or some other unforeseen circumstance, you'll want to have your baggage with you. Checking bags and then having to change your travel plans adds a layer of complexity to your trip, so try to pack a single carryon bag. One way to skip the extra bags is to ship your gifts in advance. And if you are visiting family, chances are you can use their washing machine so you can pack fewer clothes. If you have to check your bags, be sure to pack a change of clothes and emergency toiletries, including prescription medicines, in your carryon, just in case.
Entertain the Kids – If you are traveling with children, be sure to plan ahead to keep them entertained. With smartphones and iPads, it's easy to load up on electronic entertainment to keep them amused, but remember that you probably won't get internet access during the flight, so load up videos and movies on your iPad, smartphone, or Kindle before you leave home. If you want to make travel special for the kids, take a lesson from my wife and have a gift ready for each child after takeoff. When we travel for the holidays, each child gets a non-messy craft or puzzle as a special present, but they can only open it on the plane if they are really good and only after the seatbelt sign is turned off.
Prepare for the Worst – With more passengers and more holiday flights, the chances of hitting a snag in transit increase. Be prepared! You can't anticipate every possible problem, but travel insurance can help. Almost all plans include coverage for missed connections, travel delays, and trip cancellation, so if you get stuck and need a hotel of have to change travel plans, or if you have to cancel due to illness or for some other reason, you're covered.
So safe travels for the holidays and tell us about your trip, either here or on our Facebook page. We'd love to hear from you.