Call it a "bucket list" or call it something else, but for every serious traveler there are some absolute "must do" experiences during their lifetimes. And, for a growing number of these travelers, an African safari is one of them.
For a glimpse at a fascinating safari experience, one site you might want to check out is Zikomo Safari Camp. Operated by the Wallaces, an American family with a lifetime love affair with Africa, it's located in Eastern Zambia next to South Luangwa National Park, a reserve that has received worldwide renown for its plentiful and varied animal viewing experiences.
By the way, Victoria Wallace of Zikomo recently told us that the camp has had a banner year in 2013 with numerous animal sightings during the day and breathtaking star displays at night. The camp staff and visitors even welcomed a new litter of African Wild Dogs into neighboring South Luangwa National Park!
For a few initial glimpses, here are photos of the area's night time star shows, that new litter of wild dogs, and a group of passing elephants…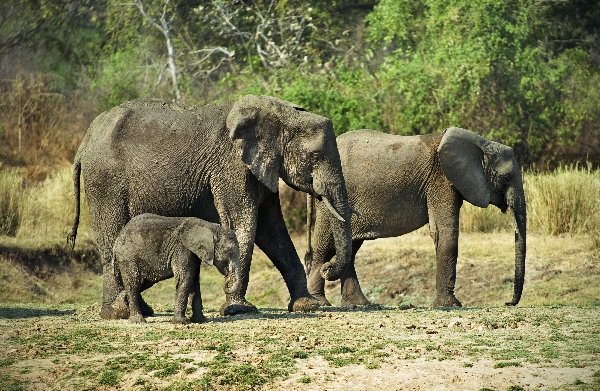 For more information on the camp, check out this story on Zikomo posted earlier this year.
4 Helpful African Safari Tips
As well as being a unique travel experience in terms of what you see, a safari is unique in terms of what to think about when you plan. It isn't—as they say—your ordinary, run-of-the-mill vacation.
So, what are some helpful tips to keep in mind before you head out to shoot that lion (with your camera, of course)? Here are 4 bits of advice from several safari specialists:
Take the road less traveled. Some sites are widely known and extremely popular. This also makes them very expensive and often much too crowded. One solution some safari veterans have recommended is to visit one or more of the excellent but less-well-known areas for camps. The two benefits of this approach are lower costs and fewer people—and fewer people often means more animals and a far richer wildlife viewing experience. Some highly recommended areas include: Kenya's Masai Mara Game Reserve, Tanzania's Selous Game Reserve, Botswana's Okavango Delta, Namibia's Okonjima Main Camp, Swaziland's Hlane Royal National Park, South Africa's Sabi Sand Game Reserve, and of course Zambia's South Luangwa National Park.
Consider the distance from the African airport you'll use. One downside of heading far out into the bush is the distance from a major airport. To begin with, it's a long, tiring flight from the U.S. to Africa. So, if you can cut down on travel time once in Africa, you'll have more time to watch animals and enjoy your vacation. Believe it or not, some of the best wildlife viewing areas are a relatively short distance from international terminals. One example is Zambia's South Luangwa National Park. It's only a 45-minute drive from Zambia's Mfuwe International Airport.
If cost is a major factor, plan your visit for the beginning or end of the season or, if possible, the off-season. Depending on when you go, the rates can change dramatically. An excellent case in point is South Africa's famed Kruger National Park. It can be quite expensive, but planning to go at a time other than peak season can save a lot of money.
Shop around for travel insurance. While travel insurance is an option for most travelers, it's a requirement at nearly all Safari camps. You have to have it. Now, getting the insurance isn't the issue. Travel agents, airlines, and the safari camps themselves are always happy to sell it to you. The issue is getting the best coverage for the best price. And, time and again, the online comparison sites win hands-down over the more conventional channels such as travel agents. At TripInsurance.com, for example, we enable travelers to buy insurance direct from 5 nationally known carriers and save 40% or more over similar plans.
•
 If you are curious about travel insurance options for safaris or any other kind of vacations and would like to talk with a licensed professional about them, don't hesitate to call us toll free at 1-877-219-8169 or email us at support@tripinsurance.com. You're never under any pressure to buy from us, and we're happy to share our expertise even if you've already purchased insurance from someone else. Whether you're our customer or not, our goal is to help you travel with confidence knowing you've made the right travel insurance choices.